Integrated Mediation Office
Services and Facilities Provided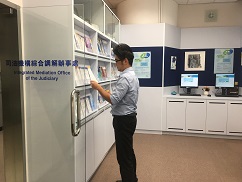 The Integrated Mediation Office aims to assist the parties to understand the nature of mediation and how it will help the litigants resolve their disputes. It serves the parties/litigants in court and facilitates them to seek both general and family mediation from the professional bodies or private practitioners outside the Judiciary.
This Office answers enquiries and provides information on court-related mediation on all civil cases, including proceedings on matrimonial / family matters and building management.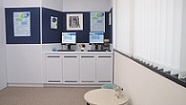 Computer terminals with access to the Judiciary website, interlinked with the websites of other professional bodies are provided at the Office. A database on the frequently asked questions raised by litigants is also provided for users' reference.
Apart from the services mentioned above, the following facilities are also made available, namely videos on mediation, booklets and relevant materials related to mediation.
However, the staff will not give any legal advice or offer any comment or assistance on the conduct of specific court cases and proceedings.
Address and telephone
Address:
Room 113, 1/F, Wanchai Tower,
12 Harbour Road,
Wanchai, Hong Kong
Telephone:
2180 8066
Fax:
2180 8052
Email:
mediation@judiciary.hk

Remarks: E-mails should be used solely for making general enquiries and should not contain personal data or information pertaining to a particular court case.
Opening Hours
Monday – Friday:
9:00am – 1:00pm
2:00pm – 6:00pm

The Office will be closed on Saturdays, Sundays and Public Holidays. In case of bad weather, please refer to Typhoon and Rainstorm Warning Arrangements in the Judiciary website.